Amazon Corner Traffic Impact Analysis Hearing Held
On March 1 the hearing was held on the question of whether the Amazon Corner TIA should be accepted as is or should be enhanced to address issues more thoroughly. Those of us supporting the appeal felt we did as well as we could with laying out the case for a more thorough traffic impact analysis, since the morning rush was not addressed and other issues of traffic mitigation, safety and parking were raised. We felt the Hearing Officer seemed fair and thoughtful. There is now a 7 day open record period for any further input. There should be a decision on whether to do further analysis in a month or so. See our testimony submitted at the hearing here, including Eben Fodor's PowerPoint presentation.
See additional testimony submitted by Friends of Amazon Creek here.
We thank the SEN Board for their support of the appeal process so that affected neighbors could be heard and their concerns addressed.
Backstory: Friends of Amazon Creek joined with Southeast Neighbors Association to file an Appeal of the Amazon Corner Traffic Impact Analysis (click to read). See extended comments related to the appeal here (click to read). See the City's responses to public comments here (click to read).
The Amazon Corner proposal is to build 117 residences above retail space in a 5-story, 62-feet tall structure at 32nd and Hilyard. 117 residences exceeds the total number of residences lining the entire Amazon Corridor on East Amazon and West Amazon, from their beginnings at 33rd Avenue to the end at Martin Street.
The City approved the developer's limited traffic impact study that did not consider many likely impacts on the character of the neighborhood, including failing to analyze the new traffic it would drive to the quiet residential side streets for cars trying to get around the new bottleneck between 32nd and 30th on Hilyard. This would be especially of concern during morning rush. See map for alternative routes around a 30th & Hilyard bottleneck.
The sensitive Amazon Creek ecosystem is also threatened with increased air pollution and road surface runoff from increased traffic congestion and idling cars in the proposed bottleneck.
Related: Actual development of multifamily housing is greatly exceeding projections. According to City data, by 2017 Eugene has already achieved 77% of the needed development forecast by Envision Eugene in just its first 5 years, with 15 years left to go (click for details).
---
---
Eugene 2035 Transportation System Plan – Public Hearing Monday, March 6, 2017, 5:30pm
The proposed TSP calls for downgrading the Level of Service of the street system city-wide to allow more congestion without mitigation. The deadline for submission of testimony by email is 3pm Friday Feb. 24. To Submit Testimony: Send a written statement to the Eugene City Council, c/o Rob Inerfeld, Public Works Engineering, at rob.inerfeld@ci.eugene.or.us. To learn more details about this issue click here.
---
---
Stop the Barger-Fern Ridge Area Cell Tower
Proposed for Bodenhamer Road (north side) 0.4 Mile West of Green Hill Road Near Amazon Creek


February 8, 2016. Verizon Wireless wishes to to build a 120 ft cell tower at the above location in a sensitive rural area between Fern Ridge Reservoir and the Barger area adjacent to northwest Eugene.  With their previous try at an application for this site Verizon openly declared they intended to ignore the Lane County Code about separation of towers from neighboring dwellings and schools and still demand approval. (To read their defiant letter for the previous application click here.)
A neighborhood meeting was held January 30, 2017 to describe plans for a new application. We will announce here when a new application is submitted, so people can provide testimony to be included in the County's decision-making process.
WHY YOU SHOULD CARE
Lane County Code requires cell towers to have a 1200 ft separation from neighboring dwellings and schools. This requirement was adopted in 2002 through the democratic process including much citizen involvement, and reaffirmed by the County in 2005. If Lane County fails to enforce this separation it would enable telecom companies to ring the cities of Eugene, Springfield, and other towns in the County with cell towers up to the edge of their urban growth boundaries, with little or no separation from homes and schools just inside. It would also undermine our rights as citizens to have meaningful democratic process and impact at the County level.
Lane County Code requires an applicant for a cell tower permit to notify neighbors in the area and have public participation in the application process, including the December 15th meeting announced above. Verizon has failed to notify some neighbors in the proposed impact area of this meeting.
Decreased property value: While the 1200 ft separation reduces visual impact to a certain extent, real estate values are adversely affected by proximity to cell towers (Land Economics, Feb. '16).
Health risks: An abundance of research world wide indicates the microwave radiation continuously emitted by cell towers adversely affects human health. Children and the elderly are especially vulnerable. Closer proximity increases one's dose, making separation distances all the more important.
Harm to wildlife: Many forms of wildlife–especially migratory birds–are harmed by cell towers. The US Department of the Interior has stated that migratory birds are harmed by the radiation disrupting their navigation abilities, by collisions with towers, by the lights of towers, and by the radiation when nesting in the tops of towers. The Fern Ridge area is vitally important for migratory birds and eagles in Lane County, and the proposed tower would be a direct threat to them.
There is already adequate Verizon phone coverage in the area! The appropriate solutions for high speed internet are cable, DSL, fiber optic and satellite strategies.
See Verizon's PREVIOUS Application Materials Here (full details of their previous proposal including images). We will update these links with the new application when available.

---
---
Below is archival information about the successful 2015 campaign opposing the Crossfire Tower in South Eugene
UPDATE July 27, 2015: EWEB has circulated a memorandum to update staff on policy for placement of telecom facilities on utility poles and street lights. To read the memo click here. It remains to be seen how EWEB will engage local residents and respond to their input about future proposed sitings.
This is in response to news about AT&T's withdrawal of its application for the Crossfire tower. AT&T announced that instead they will focus their efforts on putting microwave transmitters on utility poles in the neighborhood. See the Register Guard article here.  See AT&T's letter of withdrawal here.
The new strategy is known as a Distributed Antenna System or DAS. We are awaiting details on the dose levels of microwave radiation emissions they will be proposing for nearby homes. The Eugene Water and Electric Board (EWEB), the customer-owned, not-for-profit water and electric utility serving Eugene, will be responsible for deciding whether and where such equipment would be allowed. EWEB's mission statement includes: "Caring about our community and the environment: We recognize our responsibility to be active participants in our community. We respect the environment and strive to minimize our footprint on the natural world." If you wish to provide input into how EWEB's commissioners apply these values the next meeting is August 4 at 5:30 pm.
Help Preserve the Amazon Creek Corridor!
The Amazon Creek corridor is a unique environmentally sensitive, natural feature of South Eugene. For years it has been a favorite destination for nature lovers as well as joggers and walkers enjoying the smooth bark paths of the Adidas/Rexius Trail System that run along both sides of the creek. It is also a valued resource for nature education initiatives such as Edison Elementary School's River Spies! program and a recent neighborhood community forum on "Amazon Creek: History, Biology and Management."
The Amazon Creek Headwaters give life to this scenic natural area as the creek flows from the Ridgeline Trailhead past Kincaid Park, through Amazon Park and onward toward the Long Tom River. Also known as the Amazon Greenway, this prized area in South Eugene is part of the Eugene Parks System, and is recognized in the Metro Plan as a habitat corridor to be preserved. Nearly $3 million of city, federal, and private funds have been committed to preserving the unique character and resources of this local area landmark and public recreational space, for the specific purpose of environmental appreciation.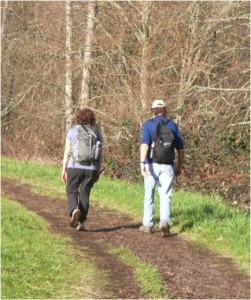 Recently the State approved funding for Eugene's Amazon Active Corridor project, whose purpose includes that it "promotes environmental stewardship" and "improves livability" of the area. The project provides for reconstruction of the Adidas/Rexius Trail and other measures to "promote solutions that fit the community and physical setting, enable healthy communities and serve and respond to the scenic, aesthetic, historic, cultural and environmental resources" (quoting the application).
The natural beauty of Amazon Creek corridor gives a unique identity to the surrounding residential neighborhoods in this part of Eugene. The presence of federal endangered species (e.g., Bradshaw's lomatium) and protected and sensitive species (e.g., pileated woodpecker, and a variety of butterflies) that make their homes here adds further to the special aesthetic values and enjoyment of the area.
The Threat
AT&T has applied to the City of Eugene to erect a cell tower in the heart of the Amazon Creek corridor at 4060 W Amazon Drive. This is a residential zoned property owned by a church known as Crossfire Ministries. They want to build a 75 foot high cellular transmission tower with a fake tree appearance and an array of six microwave antennas, with space for even more, looming over the family homes next door, the apartment complexes nearby, and about 100' above the surface of the creek itself (see Images). There would be no screening from view from the Amazon Creek corridor, the Adidas/Rexius Trails along the creek, Kincaid Park, or Parker Elementary School. The tower would be a visual blight and assault on the aesthetic values of the area and surrounding residential neighborhood. It would also introduce continuous emission of microwave radiation that threatens the health of families and wildlife in and around the area (see The Science). Lane County requires a 1,200′ setback for such towers, but this does not apply in the city.
There are valid legal grounds for denial of the AT&T/Crossfire cell tower application. We must make our voices heard! Please explore the information on this site. Join with us and Take Action to protect the Amazon Creek corridor from this unnecessary degradation.
---
Resources for immediate release:
View the AT&T/Crossfire Tower application