Update August 16, 2021
Environmental Health Trust Prevails in Federal Court Against FCC
Today, the United States Court of Appeals for the District of Columbia Circuit ruled in the historic case EHT et al. v. the FCC that the December 2019 decision by the Federal Communications Commission (FCC) to retain its 1996 safety limits for human exposure to wireless radiation was "arbitrary and capricious."  
The court held that the FCC failed to respond to "record evidence that exposure to RF radiation at levels below the Commission's current limits may cause negative health effects unrelated to cancer." Further, the agency demonstrated "a complete failure to respond to comments concerning environmental harm caused by RF radiation." The court found the FCC ignored numerous organizations, scientists  and medical doctors who called on them to update limits and the court found the FCC failed to address these issues:
impacts of long term wireless exposure
impacts to children, 
the testimony of people injured by wireless radiation, 
impacts to wildlife and the environment 
impacts to the developing brain and reproduction.
Continue reading and more information from the Environmental Health Trust
July 1, 2020
Environmental Health Trust Challenges FCC Science Denial
Below are downloadable PDF documents used in support of the Environmental Health Trust's challenge to the FCC's policy of science denial in setting safety standards for wireless radiation in the environment.
Eugene Residents Petition to Retain Control Over Local Infrastructure: See story below (1/8/19) for details.

Map of current small cell sites in Eugene. Click to see current small cell locations (see the key in the upper right header for interpretation). NOTE: This is just a current status map, hundreds more sites than those shown on this map are planned.
EWEB memo on small cell installations on EWEB facilities, January 23, 2019
FCC Technological Advisory Council Member Makes Stunning Admission
David Tennehouse, Ph.D., Chief Research Officer at VMWare and member of the FCC's Technology Advisory Board, states at the September, 2018 meeting of the FCC's Technology Advisory Council: "(W)e're now, you know, basically putting these things beaming straight into people's bedrooms, very close to their bedrooms, and at high duty cycles, sometimes directional… some of our own national labs wouldn't permit their employees to be exposed to that same radiation…" Click here to pick up at beginning of his comments.
Dr. Paul Heroux Presentation March 26, 2019, South Eugene
Eugene had a standing-room-only crowd on March 26 for the presentation by Paul Heroux, PhD on "Wireless Technology and Our Children's Health: What the Industry Isn't Telling Us". Watch the presentation below (link to slides underneath).
Click to see Dr. Heroux's slides for the above presentation.
The Problem with 5G: John C Dvorak article from PC Magazine. John C. Dvorak from the No Agenda Show podcast was a well-known writer for PC Magazine for 30 years… but was fired after publishing this article which was soon removed by PC Magazine. For a bio of Dvorak click here.
UPDATE 1/8/19

Eugene Residents Call on City Leaders to Retain Local Control Over City Infrastructure. 

New: See EWEB's position on this issue
Recently in south Eugene, without any public notice, AT&T installed new cellular antennae equipment on a utility pole on city-owned property near 4060 E. Amazon (behind what was formerly the Crossfire Church). Installers indicated it is destined to be one of many 5G ("Fifth Generation") antennae in Eugene.  At some point in the near future, the new antenna will transmit high-frequency millimeter waves into surrounding homes.
Here's a snapshot of how we got here. On July 14, 2016, the Federal Communications Commission (FCC) approved the "Spectrum Frontiers Order"–a plan to open up higher bands of the electromagnetic spectrum (3.85 GHz of licensed and 7 GHz of unlicensed spectrum available for 5G in the 28, 37 and 39 GHz millimeter wave bands) to lay the foundation for 5G. On September 27, 2018 the FCC voted to allow wireless telecommunication corporations to usurp local control of public property and infrastructure to facilitate the 5G rollout. The new regulation, which goes into effect on January 14, strips local governments of their traditional zoning authority over local rights-of-way.
Cities' right to determine whether and on what terms a wireless provider can access, occupy and use locally-owned property will be greatly restricted. According to POLITICO, the National Association of Counties predicts the FCC order will "effectively prevent local governments from properly examining the impact that construction, modification or installation of broadcasting facilities may have on public health, safety and welfare of the local community." Additionally, whereas until now cities have been able to generate hundreds of thousands in annual income by leasing space to Telecom corporations (eg. utility poles, and other structures on which cell antennae are installed), the new rules put restrictions on leasing fees–a loss of funds which tax-payers are likely to feel.  And there may be other reasons for concern.
Earlier this month, U.S. Sen. Richard Blumenthal and Rep. Anna Eshoo, D-Calif. wrote to the FCC seeking information about how the agency determined 5G technology to be safe. They have asked for scientific proof, noting that "most of our current regulations regarding radiofrequency safety were adopted in 1996 and have not yet been updated for next generation equipment and devices." Blumenthal also cited results published recently of a study by the National Toxicology Program, an inter-agency program within the U.S. Department of Health and Human Service, showing clear "evidence of cancerous heart tumors, as well as some evidence of cancerous brain tumors, in male rats exposed to high levels of radiofrequency radiation like that used in 2G and 3G cell phones."  While the NTP study did not test the frequencies used in 4G and 5G technology, Blumenthal expressed concern that "there is also a peril of health hazards associated with radiofrequency that is higher and requires more transmitters and antennas." In fact, the science indicates that 5G will be much more dangerous.
Regardless of where one stands on the subject of the potential health risks and effects of wireless radiation on wildlife and the environment, there is wide-spread agreement regarding the damaging impacts of the current FCC's deregulation on local economies and public safety. Dozens of communities, associations and municipalities around the country (e.g., Portland, Seattle, the U.S. Conference of Mayors, the National Association of Counties, and our own League of Oregon Cities) are suing the FCC or have drafted ordinances this fall to protect local government rights in advance of the January 14 deadline. With time running short, our City Council will not have time to pass a similar ordinance.
722 Eugene residents signed a petition urging Eugene's Mayor, City Council and City Manager to protect local rights by (1) creating a resolution with the intent to state Eugene's objection to the FCC's order, and (2) joining the League of Oregon Cities' lawsuit. We also asked our city's leaders to urge EWEB to pass a similar resolution, as we understand they must work together to be effective. The petition and list of signers was presented to Mayor Lucy Vinis.
---
Informative links:
"Flying Blind" on the Health Effects of 5G Wireless Technology Confirmed at US Senate Hearing After Senator Blumenthal Questions Industry – Environmental Health Trust
Local governments hit FCC with three 5G lawsuits
USA City Ordinances to Limit and Control Wireless Facilities Small Cells in Rights of Ways
Blumenthal wants FCC to prove 5G wireless technology is safe
League of Oregon Cities Files Suit Against the Federal Communications Commission
Statement by U.S. Conference of Mayors CEO & Executive Director Tom Cochran on FCC's Order Proposing to Usurp Local Property Rights
FCC announces plan to accelerate 5G deployment, limiting local control
Mill Valley blocks faster, smaller cell phone towers over cancer fears
Marin County Joins Court Action On 5G Technology
High Exposure to Radio Frequency Radiation Associated With Cancer in Male Rats
Top 20 Facts on 5G: What You Need To Know About 5G Wireless and "Small" Cells
---
---
Update 6/14/18
On June 5, 2018, South Eugene saw a standing-room only crowd at Good Samaritan Center for an outstanding presentation by Dafna Tachover, MBA, attorney from New York and Israel, entitled "Wireless Radiation: Keeping Safer in a Wireless World." Click here for info. Going forward, several Eugene-based organizations are discussing strategies for preserving a healthy environment in Eugene by educating the public as well as City officials, to prevent or minimize unnecessary radio frequency radiation (RFR) in our environment. See The Science for why.
STEPS TO STAYING HEALTHY IN A WIRELESS WORLD
1. If you must use WiFi and can't make a wired ethernet connection work: At least turn off your WiFi router at night. Plug your router power cord into a simple lamp timer in the wall outlet so you can set the on/off times. You won't have to bathe in WiFi radiation all night while sleeping. Your nervous system will appreciate it. Better yet, get a low-power WiFi router. You will be happy with streaming performance at only 10% of the radiation in your home–plus, it has built-in software to turn it on and off automatically at your desired times.
2. Put your cell phone in airplane mode at night, especially if near your bed. If you need it on for emergency phone calls or texts, just do steps 3 and 4 below and you'll still be ok.
3. Go into "Settings" and turn off all automatic update functions in your cell phone. You don't need all your apps checking with the cell towers ever few seconds, day in and day out, asking… "Hey, got anything new for me?" All this unnecessary RFR traffic passes through your nervous system.
4. Set your cell phone's email program to "manual fetch." It will automatically download any new messages whenever you actually touch the email icon anyway. You don't need your email app checking with the cell towers ever few seconds day in and day out asking… "Hey, got anything new for me?" Again all this unnecessary RFR traffic passes through your nervous system.
5. Do you care about children? If so, do not let them use wireless RFR devices. Their brains are growing rapidly, their skulls are much thinner than adults', and scientific studies have established how RFR adversely affects cellular biology (DNA damage, oxidative stress, calcium channels, etc.) — children are especially vulnerable. See The Science for why. Then ask yourself, "Could there be any conceivable connection between our recent spike in rates of autism and ADHD, and our children's dramatically increased RFR exposure in-utero and at home?" Learn more here.
6. 5G: A Solution in Search of a Problem. Are you feeling the pain of being deprived of 5G service? We didn't think so… Educate yourself and those you care for, about the huge looming threat of the proposed 5G rollout to our environment and our health. Then talk with others about how we can oppose this at the local level.
7. Be informed! Disinformation and science denial are rampant. Trustworthy sources we recommend include Environmental Health Trust and Electromagnetic Radiation Safety.
---
---
Below is archival information about the successful 2015 campaign opposing the Crossfire Cell Tower in South Eugene
UPDATE July 27, 2015: EWEB has circulated a memorandum to update staff on policy for placement of telecom facilities on utility poles and street lights. To read the memo click here. It remains to be seen how EWEB will engage local residents and respond to their input about future proposed sitings.
This is in response to news about AT&T's withdrawal of its application for the Crossfire tower. AT&T announced that instead they will focus their efforts on putting microwave transmitters on utility poles in the neighborhood. See the Register Guard article here.  See AT&T's letter of withdrawal here.
The new strategy is known as a Distributed Antenna System or DAS. We are awaiting details on the dose levels of microwave radiation emissions they will be proposing for nearby homes. The Eugene Water and Electric Board (EWEB), the customer-owned, not-for-profit water and electric utility serving Eugene, will be responsible for deciding whether and where such equipment would be allowed. EWEB's mission statement includes: "Caring about our community and the environment: We recognize our responsibility to be active participants in our community. We respect the environment and strive to minimize our footprint on the natural world."* If you wish to provide input into how EWEB's commissioners apply these values the next meeting is August 4 at 5:30 pm.
*Update 5/31/18: EWEB has removed this quote from its website.
Help Preserve the Amazon Creek Corridor!
https://www.youtube.com/watch?v=PmB2x4OM9EA&feature=youtu.be
The Amazon Creek corridor is a unique environmentally sensitive, natural feature of South Eugene. For years it has been a favorite destination for nature lovers as well as joggers and walkers enjoying the smooth bark paths of the Adidas/Rexius Trail System that run along both sides of the creek. It is also a valued resource for nature education initiatives such as Edison Elementary School's River Spies! program and a recent neighborhood community forum on "Amazon Creek: History, Biology and Management."
The Amazon Creek Headwaters give life to this scenic natural area as the creek flows from the Ridgeline Trailhead past Kincaid Park, through Amazon Park and onward toward the Long Tom River. Also known as the Amazon Greenway, this prized area in South Eugene is part of the Eugene Parks System, and is recognized in the Metro Plan as a habitat corridor to be preserved. Nearly $3 million of city, federal, and private funds have been committed to preserving the unique character and resources of this local area landmark and public recreational space, for the specific purpose of environmental appreciation.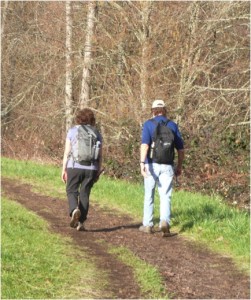 Recently the State approved funding for Eugene's Amazon Active Corridor project, whose purpose includes that it "promotes environmental stewardship" and "improves livability" of the area. The project provides for reconstruction of the Adidas/Rexius Trail and other measures to "promote solutions that fit the community and physical setting, enable healthy communities and serve and respond to the scenic, aesthetic, historic, cultural and environmental resources" (quoting the application).
The natural beauty of Amazon Creek corridor gives a unique identity to the surrounding residential neighborhoods in this part of Eugene. The presence of federal endangered species (e.g., Bradshaw's lomatium) and protected and sensitive species (e.g., pileated woodpecker, and a variety of butterflies) that make their homes here adds further to the special aesthetic values and enjoyment of the area.
The Threat
AT&T has applied to the City of Eugene to erect a cell tower in the heart of the Amazon Creek corridor at 4060 W Amazon Drive. This is a residential zoned property owned by a church known as Crossfire Ministries. They want to build a 75 foot high cellular transmission tower with a fake tree appearance and an array of six microwave antennas, with space for even more, looming over the family homes next door, the apartment complexes nearby, and about 100' above the surface of the creek itself (see Images). There would be no screening from view from the Amazon Creek corridor, the Adidas/Rexius Trails along the creek, Kincaid Park, or Parker Elementary School. The tower would be a visual blight and assault on the aesthetic values of the area and surrounding residential neighborhood. It would also introduce continuous emission of microwave radiation that threatens the health of families and wildlife in and around the area (see The Science). Lane County requires a 1,200′ setback for such towers, but this does not apply in the city.
There are valid legal grounds for denial of the AT&T/Crossfire cell tower application. We must make our voices heard! Please explore the information on this site. Join with us and Take Action to protect the Amazon Creek corridor from this unnecessary degradation.
---
Resources for immediate release:
View the AT&T/Crossfire Tower application